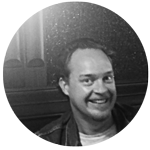 I am Magnus and I made the visuals you can see on the site.
I started as a kid creating my own illustrated stories with whatever pen-like tools I could find. My initial inspirations came from various comics and older storybooks in which atmosphere and visual punch were dominant features.
My interest first took me to a trainee position at an illustration studio and a preliminary art school. In 1998 I graduated from Konstfack (University of Arts, Crafts and Design) in Stockholm, from which I hold a master degree in graphic design and illustration. Shortly after the examination I received an award from the design company Sweden Graphics as the most prominent examined student that year. Also the major newspaper Dagens Nyheter wrote about my degree project as one of the most eye-catching in the exhibition. 
After graduation I entered the somewhat tumultuary but extremely creative IT-sector. There I set the visual identity of an online community called DoBeDo. In combination with the art direction I made a lot of freelance work, mainly editorial illustration. That is a very inspiring field where perspectives on articles are to be enhanced and challenged. I contributed to various newspapers and magazines such as Café, Dagens Nyheter, Nöjesguiden and Publicistklubbens årsbok among others. I also produced commercial illustrations for brands as Sveriges Annonsörer, Spray and Budweiser. In the meantime, the vivid illustrated online-community of DoBeDo that I art directed reached a number of 300 000 members. DoBeDo also received a SIME-award for its notable internet impact.
When the golden days of the IT-bubble were through I focused on freelance work for a few years. Amongst other things I then made an animated music video for the band Clay Allison which received a silver award in 2003 KOLLA!-awards. 
In 2007 I started working in the e-gaming business. At Boss Media (later IGT) started out making various design concepts for simple games. I took charge of the product identity of mini-games – smaller casino games placed in larger frameworks such as bingo clients or other web pages. The identity was set through logotypes, characters and animations down to the placement of functionalities on the wireframe level. After this, I continued working with the design guidelines for the game portfolio in general. This was very much a collective effort as I had the opportunity to work with talented programmers.
I am always interested in projects that hold energy and visual impact. My area of expression has for some time been the combination of pen and paper and digital effects. Perhaps that is visualized most in my contributions to the STIGA SPORTS brand. Nowadays my focus is mainly on stuff that holds a level of aesthetical integrity. Again I have picked up stippling art, which is a quite time consuming but visually powerful technique.
That, and many other projects are here, so have a look!
For inquiries: 
magnus.elweklint(a)gmail.com
+46730890766
More links, as to my resume and other portfolios you find in USEFUL LINKS below.